Moon That Embraces The Sun
i'm a korean drama freak.. but doesn't mean i accept all type of drama okey..
recently i juz finished watching this korean drama..
"Moon That Embraces The Sun"
very cool and great drama..
i'm actually not a big fans of an epic drama like this but sometimes i do make an acception..
this drama was sooooo sad, funny and also make you angry at the same times..
not many drama can make you feel all the emotion you know..
Synopsis:
The story of the secret love between Lee Hwon, a fictional king of Joseon, and Wol, a female shaman. Wol was born as Heo Yeon Woo, the daughter of a noble family who won the love of the crown prince, Hwon. Her enemies, jealous of her family's position in court, schemed against her and wrestled away her rightful place as crown princess and nearly takes her life. Years later, an embittered Hwon meets Wol, now a female shaman who has no recollection of her past. (Courtesy from DramaWiki)
Hwon(the prince) met heo yeon woo when he secretly trying to run from the palace to met his brother (second hero) then yeon woo catch him.. she thought that he was a thief so she scolded him and advising him. then when she realize that he was a crown prince she was so afraid. the prince at the same time started to fall in love with her.. then yeon woo being choose to become princess friend (cause yeon woo is a clever and nice girl). then you wpuld see how hard the prince try to make yeon woo as his crown princess..when he succeed yeon woo suffer from black magic sent by the prince grandmother... then she died..(so sad at this time..i cried like crazy) fortunately she being save by magic..
8th years later she came as wol a shaman... but she lost her memories..
to know more watch this drama dears!
for me i juz simply love this drama...
the drama plot was strong..
the actor as well as the actress was so good especially the young actor and actress..
i would give 4 and a half for this drama!!!
hwon and yeon woo (child)
Yeo Jin Goo and kim Yoo Jung
hwon and yeon woo (adult)
Kim Soo Hyun and Han Ga In
**********************************************************************************************
Adnan Sempit 2
Okey Adnan Sempit 2 was okey but not really up to my expectation..
why????
because when I watch Adnan Sempit 1 i'm laughing soo much..
but in this sequel
i'm still laughing but on certain scene only...
the plot of the story was not that strong..
but still Adnan Sempit 2 was a good movie if you decide to release your tension..
so try and watch..
synopsis:
The sequel to the successful "Adnan Sempit" by Ismail Bob Hashim in 2010 which told the story of Adnan, an orphaned street biker who is cared for by his aunt. On the other hand, Nadia is born to a wealthy family and currently owns a stable job. These two opposites soon encounter one another by chance and end up being in a relationship. Now, in "Adnan Sempit 2", it sees Shaheizy Sam reprising his role as Adnan, and his trials and tribulations in life and his relationship with Nadia.
My Own synopsis:
Adnan being challenge by Nadia father to learn English and becoming a great businessman figure within one month. he faces a lot of challenges in order to succeed.
Adnan and Nadia
(Shaheizy Sam and Intan Ladyana)
***********************************************************************************
Autumn in My Heart
courtesy from Drama Wiki
I bet everyone have watched this drama...
for sure everyone was crying rite???
actually i also cried when i watched this drama...
so today the review would be about this drama..
even though it was an old drama but Autumn in My Heart was a very great drama..
this drama seriously messing around with our emotion..
this drama was the first korean drama i watched..
Synopsis :
Yoon Joon-suh and Yoon Eun-suh grew up as siblings but Eun-suh was in fact from a different family as there was a mixed up at the hospital where she was borned.The switch came to light when Eun-suh was involved in a car accident and it was discovered that her blood type was different from her parents. Eun-suh's life took a complete turn when the 2 girls were returned to their respective families. Soon after, the Yoon family left for the States and Eun-suh was left living in sordid condition with her real family in Korea. Years after, Joon-suh returned to Korea and by chance the two former siblings were reunited.
( Courtesy from DramaWiki)
Choi Woo Hyuk as young Joon Suh and
Moon Geun Young as young Eun Suh
Song Hye Kyo as Yun/Choi Eun Suh and
Song Seung Hun as Yun Joon Suh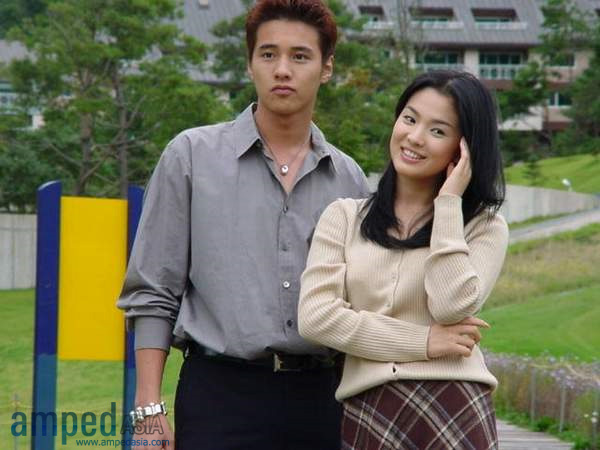 Won Bin as Han Tae Suk
Malcolm in the Middle
(2000-2006)
Back to Retro hu3...(hu3 but this sitcom was not that too long okey)
have u ever watch this sitcom????
Malcolm in the middle was my fav sitcom (with others sitcom tooo =) )
the story about a chaotic family...
brothers fight...
genius son (malcolm)
annoying brother (always the youngest one lorr)
all you can find in this sitcom!
the most important thing is that Frankie Muniz (Malcolm) was damn cute at this time..
correct me if i'm wrong is Francis (the older bro) is Barnie in 'How I Met Your Mother' ????
if true wooooahhh!!! i really love him!!!
owhh watching this really likie i'm boarding into a time machine back to my old days!